40+ cities and schools throughout Miami Dade and Broward Counties team up provide footwear for the needy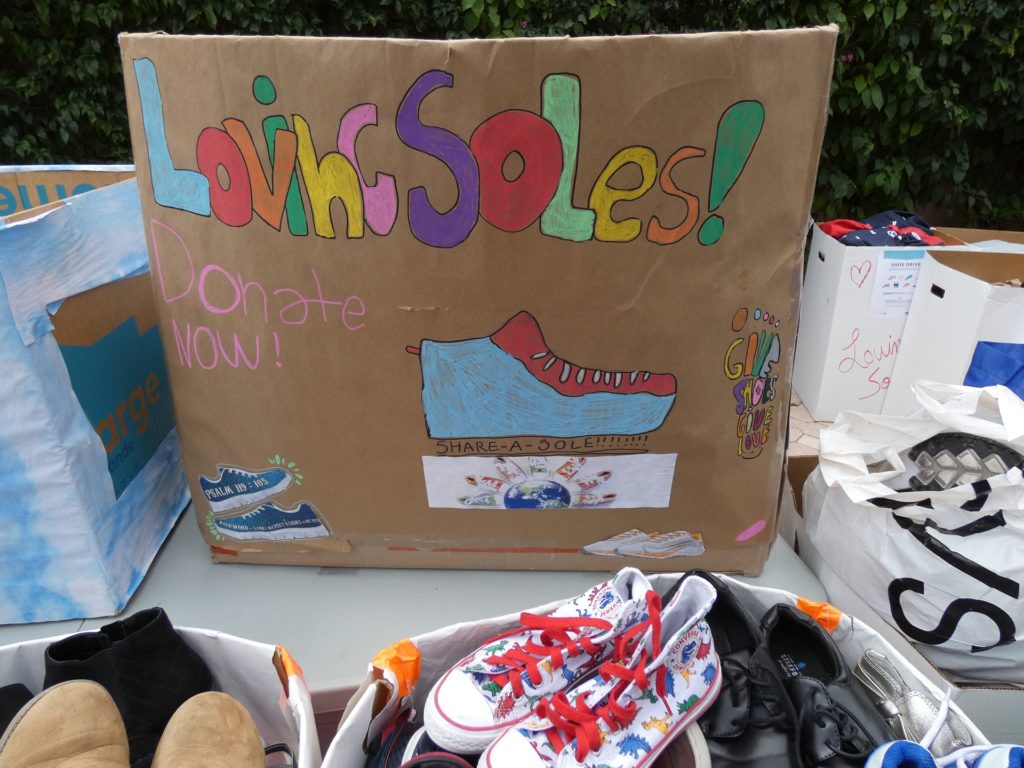 What started as a small project for Loving Soles in 2011, has grown over time to become arguably the largest shoe collection drive in South Florida – certainly in recent years. Last year, while the economic effects of Covid-19 were still strongly felt, and many households were stretched thin, charitable giving seemed to increase. For the now annual shoe drive that meant more people stepped up to help their neighbors and translated into 5,000 pairs of shoes.
The organization was founded by Ileana Gutierrez McGoohan and her two teenage children who lead the grassroots efforts of collecting shoes for the homeless through their connections at schools and friends in their local area. Eventually as her kids aged out of high school the torch was passed on to neighbors and friends in 2018 – the Inguanzo family. It remains a student-led initiative; in particular Sophia, Susanna and Christopher, high school students at Archbishop Edward McCarthy High School, are the driving forces who for their first shoe drive collected 500 pairs of shoes. Now, more groups across Miami and Broward counties were recruited to participate, and Loving Soles set out to reach the ambitious goal of collecting 10,000 pairs. That's a lot of shoes for this population in need.
"It's been incredible to see the outpour of love from the community. In a world riddled with so much negativity, this display of generosity restores hope and faith in humanity. Perhaps that is the greatest miracle and the greatest impact – that lives are changed for both the giver and the recipient," said Hilda M. Fernandez, Camillus House CEO.
Without their planning and prepping at least 6 months in advance the shoe drive wouldn't be as successful – the payoff of their hard work is enormous. This year's efforts resulted in the collection of over 12,000 pairs of shoes (and counting) collected from March 1st – 31st; overlapping with "Shoe The World Day". Nearly 20 cities in South Florida participated, including: Bal Harbour Village, Bay Harbor Islands, Biscayne Park, Cooper City, Dania Beach, Golden Beach, Hallandale Beach, Key Biscayne, Miami Beach, Miami Lakes, Miami Shores, Miami Springs, North Bay Village, Pinecrest, Southwest Ranches, Surfside and West Miami.
State Attorney Katherine Fernandez Rundle stated, "Our office and staff have been proud to assist in making the Camillus House "Loving Soles" shoe drive a success. For this community's homeless, a good pair of shoes can provide more than just physical comfort. They can provide the emotional first step necessary to snapping those ropes keeping someone tied to the streets of Miami-Dade County."
And over 20 schools also participated, including several public, charter and catholic schools in the Archdiocese of Miami. Students at Hialeah Elementary alone collected over 400 pairs of shoes. "Participating in the shoe drive was a great experience for the students and staff at Hialeah Elementary. It afforded us the opportunity as a school family to give back to the community and support all who visit Camillus House," said Principal Rosa Iglesias.
After the collection drive officially ended the Inguanzo siblings have spent several weeks receiving, cleaning, sorting, and organizing the shoes in their garage and grandparent's garages. Camillus House will sent two trucks to pick up all the shoes, with a group of student volunteers helping to load the thousands of donated items.
We are so blessed!