Our History & Mission
From one meal served to South Florida's largest caretaker of the homeless
Our Beginning
For more than 60 years, Camillus House has provided material aid and hope to Miami-Dade County's hungry and homeless.
The seed that became this ministry was planted in 1960 with a small act of kindness: Brother Mathias Barrett gave a hungry, newly arrived Cuban exile a bowl of corn flakes and milk.
In the more than six decades since, our ministry has flourished, bringing material help, hope, healing, community, and dignity to hundreds of thousands in need.
Today, as the largest and one of the oldest service providers caring for the homeless in South Florida, Camillus still provides more than 600 meals a day to the hungry. But that's only the beginning.
Camillus House is now the most broad-based homeless services provider in our community, helping the poor and vulnerable not only with food and shelter, but with clothing, job-training, counseling, medical assistance, and other tools that help rebuild broken lives. We seek in all our works to keep alive the spirit of compassionate service that marked Camillus from the start.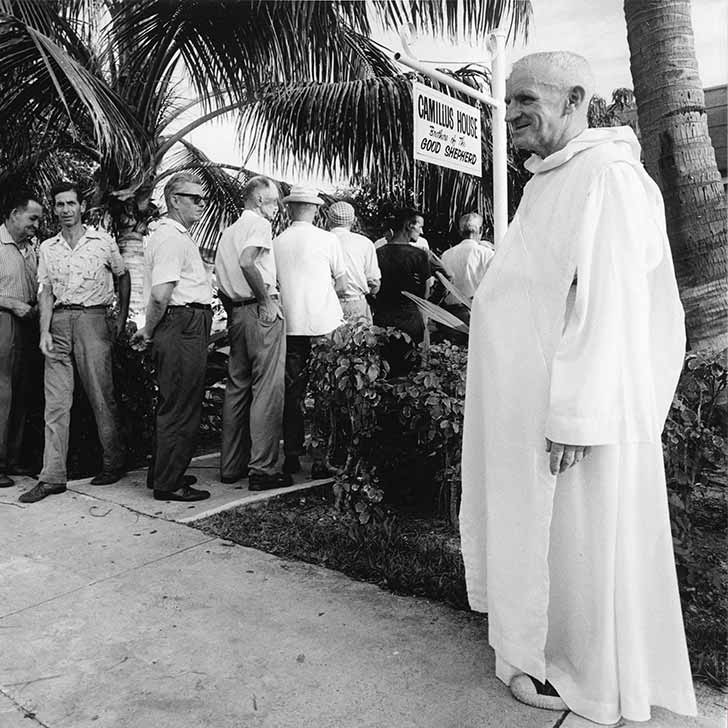 Brother Mathias Barrett, founder of Camillus House, came to South Florida at the invitation of Bishop Coleman Carroll to help the growing number of immigrants arriving in Miami.
Our Mission
Rooted in the compassionate Hospitality of St. John of God, we improve the quality of life of those who are vulnerable and homeless in South Florida through the provision of a continuum of housing and supportive services.
Our Values
Camillus House integrates the following values in every aspect of service:
Hospitality
Respect
Quality
Spirituality
Responsibility
Vision Statement
Camillus House envisions its service to the poor and homeless as a continuum of care which empowers clients towards personal rehabilitation and proactive integration as productive members of the general population.
Our vision for tomorrow is always built on the ideals of our founding mission which aims to provide every client with opportunities to combine personal and community resources in order to affect physical, mental and spiritual well-being.
Camillus House programs include development initiatives that will enhance client efforts to reshape their ability for self-enrichment.
These initiatives include:
Emergency assistance with food, clothing and shelter.
Job training and placement.
Residential substance abuse treatment and aftercare.
Behavioral health and maintenance.
Health care access and disease prevention.
Transitional and permanent housing.
We commit ourselves eagerly to the adaptation of our mission in order to meet the new challenges facing the homeless in our contemporary society. The spirit of God moves us to action with reverence for the quality of life for all we serve and the elimination of the causes of homelessness in our times.