Meet the Chef
Born and raised in Miami, Chef Daniel Ganem's culinary knowledge was fostered from a young age, his love for cooking blossoming while working alongside his Palestinian and Basque grandparents in their family kitchen. As a teenager Ganem worked in various bakeries and restaurants throughout Miami. Determined to pursue his culinary passion Ganem moved to Orlando, Fla., where he studied at Le Cordon Bleu. Upon completion of his culinary education, he held an apprenticeship with renowned chef Michael Mina at Aqua in San Francisco. Eventually, Ganem decided to pursue his dream of becoming an expert on his familial roots in the Basque region of Spain, so in 2007 he moved to San Sebastian and staged at Martin Berasategui's eponymous restaurant. In 2021 Danny got the once in a lifetime opportunity to work under Michelin Starred Chef Fabio Trabocchi as his Executive Chef for Fiola Miami and La Terrazza da Fiola. When not in the kitchen, Ganem spends his time at home with his wife Anita and his three children, Caleb, Emma and Logan. His main pastime and hobby is photography, and he often photographs his own dishes for Fiola.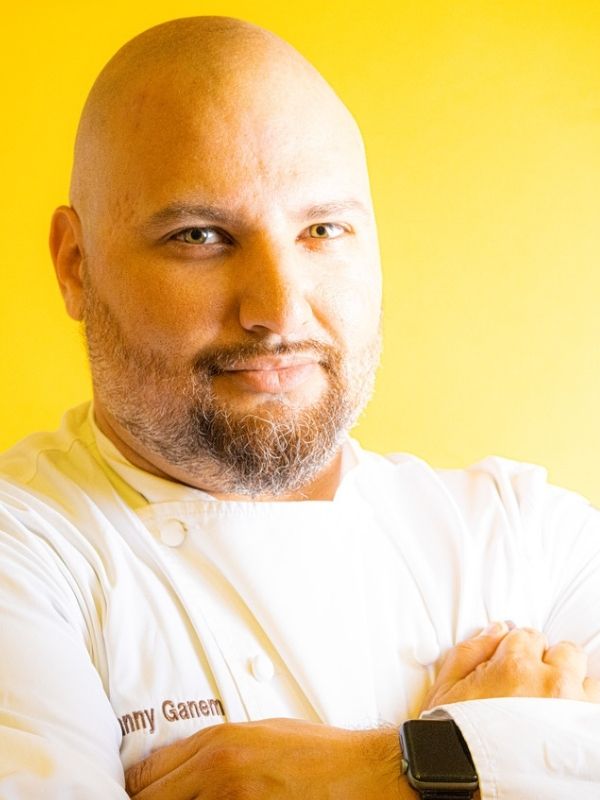 Watch the Class:
Full Recipe:
Spaghetti Bolognese
Yield 4-6 portions
Ingredients
3 Tbsp of oil (canola, vegetable or olive oil) 1 Yellow Onion
4 Garlic Cloves
2 Carrots
2 Celery Stalks
6 Ripe Plum Tomatoes plus 1/2 can peeled tomatoes (may substitute 28 oz can of peeled tomatoes)
2 slices of bacon
1/2 lb Ground Beef
1/2 lb Ground Pork
1 Tbsp Tomato Paste
1 Tsp sugar
2 cubes chicken bouillon
4 cups of water
6 leaves of fresh basil
3 sprigs of fresh oregano
2 bay leafs
1 box spaghetti
Salt, pepper and Parmesan Cheese to taste
Instructions
Cut onion, garlic, carrots and celery into a fine dice. Set aside.
Cut tomatoes into 1 inch cubes. Set aside.
Cut the bacon into small pieces and set aside.
In a large pot, render the fat from the bacon. Add meats and brown. Once browned, remove from pot and set aside.
In the same pot add oil, onions and garlic. Cook over medium heat for 3 minutes.
Add celery and carrots and season to taste. Cook another 5 minutes.
Add diced tomatoes and let the mixture cook down until little liquid is left. Add the tomato paste and cook until the mixture becomes roasted/browned [fond].
Add canned tomatoes, sugar, bouillon cubes, basil, oregano, bay leaves and 4 cups of water. Bring to a boil.
Add pasta and cook 7 minutes or until al dente.