Meet the Chef
Norman Van Aken is widely known for introducing the term "Fusion" into the vocabulary of cuisine due to a speech he presented in Santa Fe in 1989. He is the only Floridian Chef recipient of the James Beard Foundation's 'Who's Who' in American Food and Beverage. He has also been a semifinalist for the "Best Chef in America". His namesake restaurant NORMAN'S, was nominated as a finalist for "Best Restaurant in America." He has represented the United States with international recognitions that include being honored alongside Alice Waters, Paul Prudhomme and Mark Miller as "One of the Founders of New American Cuisine" at Spain's International Summit of Gastronomy 'Madrid Fusión'. He's the author of six cookbooks which were hailed by many including the late Anthony Bourdain, and Charlie Trotter as well as Thomas Keller, Emeril Lagasse and Wolfgang Puck. His memoir "No Experience Necessary" received a 'finalist nomination' at the prestigious IACP/Julia Child Awards. His latest book, Norman Van Aken's My Florida Kitchen, was awarded the Florida Book Award's "Gold Medal for Cooking".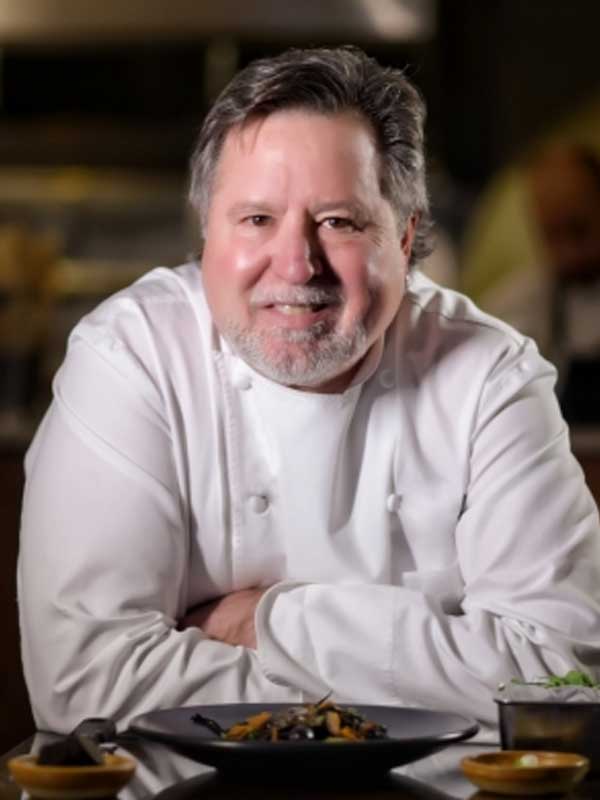 Watch the Class:
Full Recipe:
Roasted Chicken Thighs with Cheesy Corn Grits and Coca Cola Collards
Roasted Chicken Thighs
Note: Chicken thighs can range in size which affects cooking time. If possible use convection on your oven. If that is not a feature it will just take a bit longer to reach the right internal temperature.
Yield: Serves 4
Ingredients
For the Chicken
4 skin on boneless or bone in chicken thighs, (I use bone in but it is up to you)
Kosher salt and freshly cracked black pepper, to taste
A.P. flour, as needed
Pure olive oil, as needed, (you can used canola oil, peanut oil etc. if you like)
Instructions
Preheat oven to 400ºF
Season the chicken thighs with the salt and pepper. Now dust them on an a plate or platter with the flour, coating them well but also patting off the excess. Set aside a moment.
Heat a skillet large enough to fit the chicken. When the pan is hot add in the pure olive oil. Place the thighs skin side down and allow them to brown. Turn them on to all sides continuing to brown them.
Now remove any excess fat from the pan and put them in the oven to cook. They will take about 20 minutes.
If you have an instant read thermometer you want them to come to 165 degrees internal temp. Keep them warm while the other cooking continues.
Cheesy Corn Grits
Yield: 1 Quart
Ingredients
3 Cups whole milk
1 Cup water
1 Tablespoon kosher salt
1 teaspoon, finely ground black pepper
4 ounces butter, cut into small pieces
1 Cup yellow corn grits
2 ears of fresh corn, taken off the cob and quickly sautéed with the jalapeño, (if using) in bit of olive oil and butter seasoned with kosher salt and freshly cracked black pepper 1-2 jalapeños, stemmed, seeded and diced small (optional)
1 Cup of queso blanco, shredded, (or other cheese as desired)
Instructions
Put the milk in a heavy saucepan with the water, salt, pepper and butter and bring just to a boil.
Now whisk the grits into the hot mixture and stir well. When it starts to bubble and "splat", turn the heat down to low. (about 3 minutes.)
Mix in the cooked corn and jalapeño. Stir often to prevent sticking.
When the grits are thick and cooked through, (about 15 minutes) mix in the shredded cheese.
Whisk again for 1 minute. Turn off the heat and continue to whisk 1 more minute. Season to taste.
Keep them warm until needed.
Coca-Cola Collards
There are few things more 'Southern' than collard greens. As Coca Cola was invented in the South, I find them logical and wonderful partners!
Ingredients
1/2 Cup bacon, diced small
2 Tablespoons pure olive oil
1 sweet onion, peeled and thinly sliced
6 cloves of garlic, minced
2 teaspoons dried red pepper flakes
¾ Cup dark brown sugar
6 Tablespoons Balsamic vinegar
1 Tablespoon Creole (or other sweet styled, coarse) mustard
2 pounds of (stems removed) collard greens, cut into 2" pieces and then washed in cold water and drained
1 Cup Chicken Stock or Vegetable Broth
3 Cups Mexican Coke (It is preferred for the nature of the sugar in that type)
Kosher salt and cracked black pepper, to taste
Instructions
Render the bacon in a large, heavy pot over medium heat with the olive oil.
When the bacon is crispy add the onions and garlic, red pepper flakes and allow to cook for about 3 minutes.
Add the brown sugar, vinegar and Creole mustard and let it reduce a minute or two.
Add the collard greens along with some salt and pepper and allow to wilt (about 3-5 minutes).
Add the chicken stock, (or broth) and Coca-Cola. Lower the heat to a high simmer and simmer for about 15 minutes.
Lift off the collards with some tongs into a large bowl and reserve them for now.
Reduce the combined liquids in over medium-high heat until they reach a "saucy" consistency. This could take 15 to 30 minutes depending on the power of your stove. Pour it onto the reserved greens.
Reserve until needed back into the pot and kept warm.
Step by Step
Start the Collard Greens.
Start the Chicken.
Prepare the Cheesy Grits while the collards and chicken cook. Keep them warm when they are done.
Finish the Collard Greens. Remove the chicken from the oven when it is cooked and keep warm.
Plating the Dish: Spoon the grits as desired into the base of four large warm plates. Top the grits with the chicken and add the collard greens to the side of the chicken. Serve.
Helpful Tools
Heavy skillet or cast-iron pan to cook the chicken in.
Heavy type of sauce pot to cook the grits in.
Whisk to stir the grits as they cook. A heavy wooden spoon will also work.
Large heavy skillet or heavy pot to cook the collards in.
Medium to large mixing bowl for the collard greens to rest in temporarily while the cola etc. mixture is reducing.
Recipes © 2021 All rights reserved by Norman Van Aken