Meet the Chef
Chef Allen Susser is a James Beard Award-winning Chef who has a passionate commitment to local fresh ingredients. The New York Times called Allen the "Ponce De Leon of New Florida cooking". Chef Allen's Consulting ( www.chefallens.com) is a boutique sustainable restaurant and hospitality consulting firm – providing strategic initiative, culinary resources, and innovative direction for the industry. One of his current projects is the world-renowned Jade Mountain Resort in St Lucia, West Indies.
Chef Allen is the Culinary Director for the Cafes at Books & Books. He was recently recognized by Slow Food USA with a Lifetime Achievement Award for his commitment to working with local farmers and food artisans. Chef Allen is the author of several books, the most recent being Green Fig & Lionfish, Sustainable Caribbean Cooking (Mango Press, 2019), and digital cookbook Jade Mountain Gastronomy (Story Farm, 2020).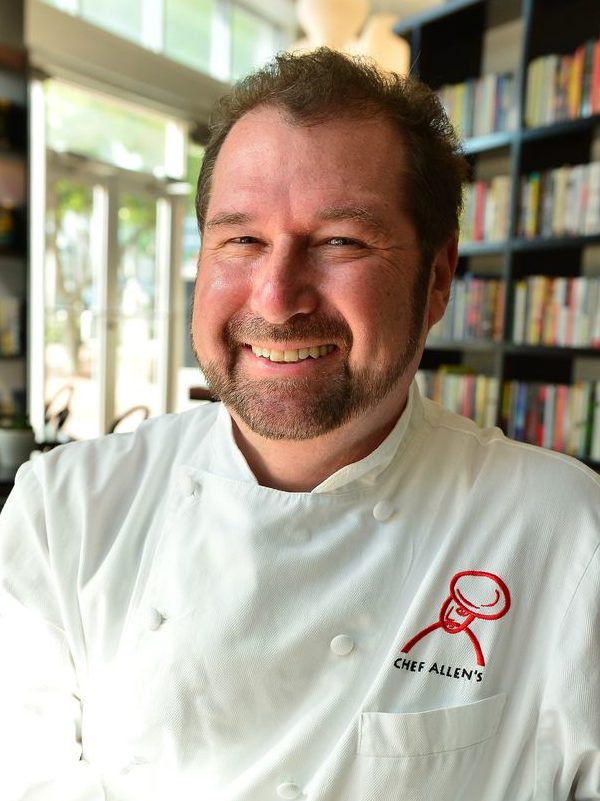 Watch the Class:
Full Recipe:
Caribbean Curried MahiMahi
Ingredients
4 4oz fish filets
2 large limes, juiced
4 tablespoons of olive oil
1 large sweet onion, diced
2 cloves of garlic, finely chopped
1 medium sweet pepper or seasoning pepper, diced
1 can of coconut milk
1 Tablespoon Caribbean Curry Powder
1 teaspoon coarse salt
1 teaspoon black pepper
1 bunch of fresh cilantro, chopped
1 1/2 cups of rice
Instructions
Season the Fish
In a medium sized bowl combine the ½ teaspoon salt, 2 teaspoons cilantro with the juice of one lime.
Marinate fish in this mixture for 15 minutes
Prepare the Rice
Using a small pot with a lid, measure 3 cups cold water, add 1 ½ cups rice and ½ teaspoon salt.
Bring to a boil and lower to a simmer. Cook covered for 20 minutes.
Remove the rice from the heat and fluff lightly with a fork.
Cover and let rest for another 5 minutes. Season the rice with lime juice and chopped cilantro.
Prepare the Curry
Using a heavy bottom skillet warm 2 tablespoons olive oil and add in the onions.
Cook over medium heat until they begin to brown slightly, add the garlic, then stir in the curry powder.
Mix well and cook for another minute and then push the mixture to one side of the pan.
Cook the Fish
Add the remaining oil while turning the heat up to high.
Carefully place the marinated fish into the hot oil.
Pan fry the fish on the first side for about 2 minutes, turning the fish with a spatula when golden brown.
Add the peppers and coconut milk, bringing the sauce to a simmer.
Season with salt and pepper.
To Serve:
When the fish is just cooked through, remove to a serving plate. Stir the sauce well to reduce another minute and finish with fresh cilantro. Spoon the sauce over the fish. Serve with rice.