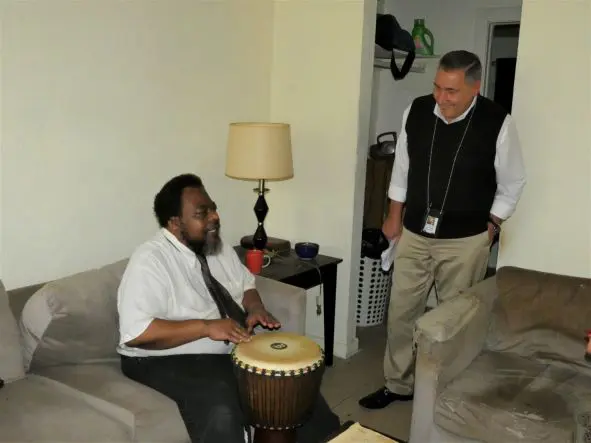 57-year-old John has lived a tough life bouncing around different states and regularly turning to Camillus House to help him get his life straightened out.
After years of struggle, John was ultimately diagnosed with schizophrenia and qualified for disability. He had been living in California and says he got involved with drugs and was living on the street.
"I was going from California to Miami by bus for years, trying to stop and get clean," he said. "While I was in Los Angeles in 2004 a case manager named Mr. Robinson guided me "and by the grace of God, I got into a clinical trial and finally stopped using drugs," he said.
Even though he was clean, staying housed was still a challenge and so it was during these tumultuous years, when John first became a Camillus House day center client. He stayed at Camillus on and off about seven or eight times until after his mom passed in 2008 and he wanted to settle in Miami.
He found an apartment where he lived for six months, but it wasn't meant to be. While there, things got complicated and John found himself homeless again. He had more troubles down the line including, losing his identification while on Miami Beach, and finding himself living on the streets of Downtown Miami again. That's when the Camillus House Outreach team found him in 2017.
"I was sleeping in the lobby of a Downtown Miami building where the team spotted me and brought me into Camillus House," he said. "All this time I wanted to get my own place but I didn't trust easily," he shared.
He stayed for about seven months until he got anxious and left. For the next several years, John slept around the bridge near Camillus House and would go in there to get breakfast.
They say joy comes in the morning, and it did for John because one day during one of those mornings at breakfast he accepted a referral from the Homeless Trust and started working with the Camillus House Assertive Community Treatment (ACT) team, a type of permanent supportive housing. His case manager at the time Nestor recalls, "I remember seeing Mr. Hemphill and knew he had health concerns. It just seemed like he was a guy that deserved help and was going to put in the effort, so I went to my boss and requested him to be assigned to me."
John came daily to Nestor's office, and little by little grew to trust Nestor and even shared with him his dream of becoming an author. They found a place for him in Homestead and a nurse would prepare his medications and visit with him with Nestor 2 times a month. Although this was fine, John felt too far from the city, so he spoke to the team again and they found him an apartment in Overtown, which is more accessible to Camillus House and the clinic. He still lives there today.
Though John currently has a new case manager, it was Nestor who helped him get the supplies to start writing his book. Nestor says, "Not all clients are responsible and consistent. You invest and work with them for years and things might not change, but they did for Mr. Hemphill. I only had to push him a little. I am so proud of him."
John lives a quiet life receiving his Social Security (SSI) checks, playing the bongo and is now a published author. He found time to write "Reconciliation is a Challenge for Christmas" published by Ghostwriting Founder and available on Amazon.com.
The book is about the mystery and magic of Christmas and how "we really have a gift that God gave us and it's called reconciliation, something he wants us all to have. The holy scripture/passage of Mark 11; 22-24, summarizes what the book is about."
The passage reads: "Have faith in God," Jesus answered. "Truly I tell you, if anyone says to this mountain, 'Go, throw yourself into the sea,' and does not doubt in their heart but believes that what they say will happen, it will be done for them. Therefore I tell you, whatever you ask for in prayer, believe that you have received it, and it will be yours."
Ultimately, through all his trials and tribulations, John feels that "the Camillus House team are friends that I needed in my life and they came to my rescue." John is currently writing his second book.
Be a Part of Camillus' Story
Our work depends on caring friends – will you join us? Learn more about how you can get involved and support us.