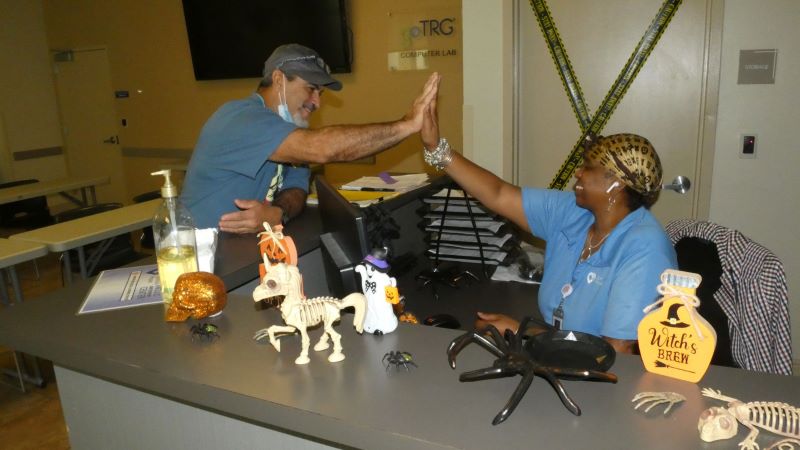 Five days out, with Miami-Dade in the cone of uncertainty, the Miami-Dade County Homeless Trust's emergency weather activation began. Just prior to Hurricane Ian attaining Category 3 status, Camillus House implemented our comprehensive Emergency Response Plan in anticipation of potential impacts from the storm, previously referred to Tropical Depression 9. This included notifying clients residing in our permanent housing sites to secure outdoor areas, making sure evacuation plans were in place and for those who are medically needy, and making sure they were registered with the Miami-Dade County Emergency & Evacuation Assistance Program (EEAP), while staff replenished supplies and secured loose items at all our locations. We activated an Employee Helpline and issued Client Advisories to keep everyone in the Camillus family informed and up-to-date.
If you ever wondered how one of Miami-Dade's largest homeless service providers prepares to accommodate an increase in homeless individuals seeking refuge from a hurricane, here's a look at our emergency planning perspective through the eyes of one of our dedicated team members.
On the day of the storm's landfall on Florida's west coast, Camillus staff Felicia Johnson joined her fellow team members to assist with the residents' needs. As a front-line worker, she is motivated by her passion to help and is one of the first points of contact for homeless individuals when they arrive at our main campus.
Many of Miami's homeless individuals did not try to access Camillus' Day Center due to word on the street that our regular services were halted due to the storm. "I wonder if homeless individuals hunkered down under a bridge or in another shelter today," said Johnson. "The clients seeking shelter from the Hurricane were not the usual clients benefitting from day center services, they are seeking refuge."
In collaboration with the Homeless Trust's emergency activation, Camillus responded by preparing space for 80 street homeless individuals to be provided a safe haven from the bad weather on our main campus (60 men and 20 women were accommodated). These accommodations are made in addition to the regular beds provided on a daily basis.
Normally, if a homeless individual has never been our guest, they must register and go through a specific referral process. In case of emergency, folks seeking refuge from inclement weather may be placed by an outreach team, by police departments, or may walk-in for assistance. "When they arrive at Camillus, I give them a badge to visually signal their needs to staff," explained Johnson. She added, the misconception on the street is there are only accommodations for men, the predominant gender usually served by Camillus.
In actuality, Camillus House provides emergency housing services to individual men and women in addition to the hundreds of units of permanent housing provided to women, children and families throughout Miami-Dade County. For this storm, Camillus was able to make enough space available for up to 20 women in what is usually our art room. "These women were so ecstatic they could get in because they didn't expect to, and they succeeded," she said. After two and half years on the job, Johnson enjoys helping people and brings her hospitality background to her role. She enjoys their stories and meeting them at the gate and feels good about helping so many men and women get off the streets whether it was for a day or a couple of hours, to have a bed, a shower, and a meal.