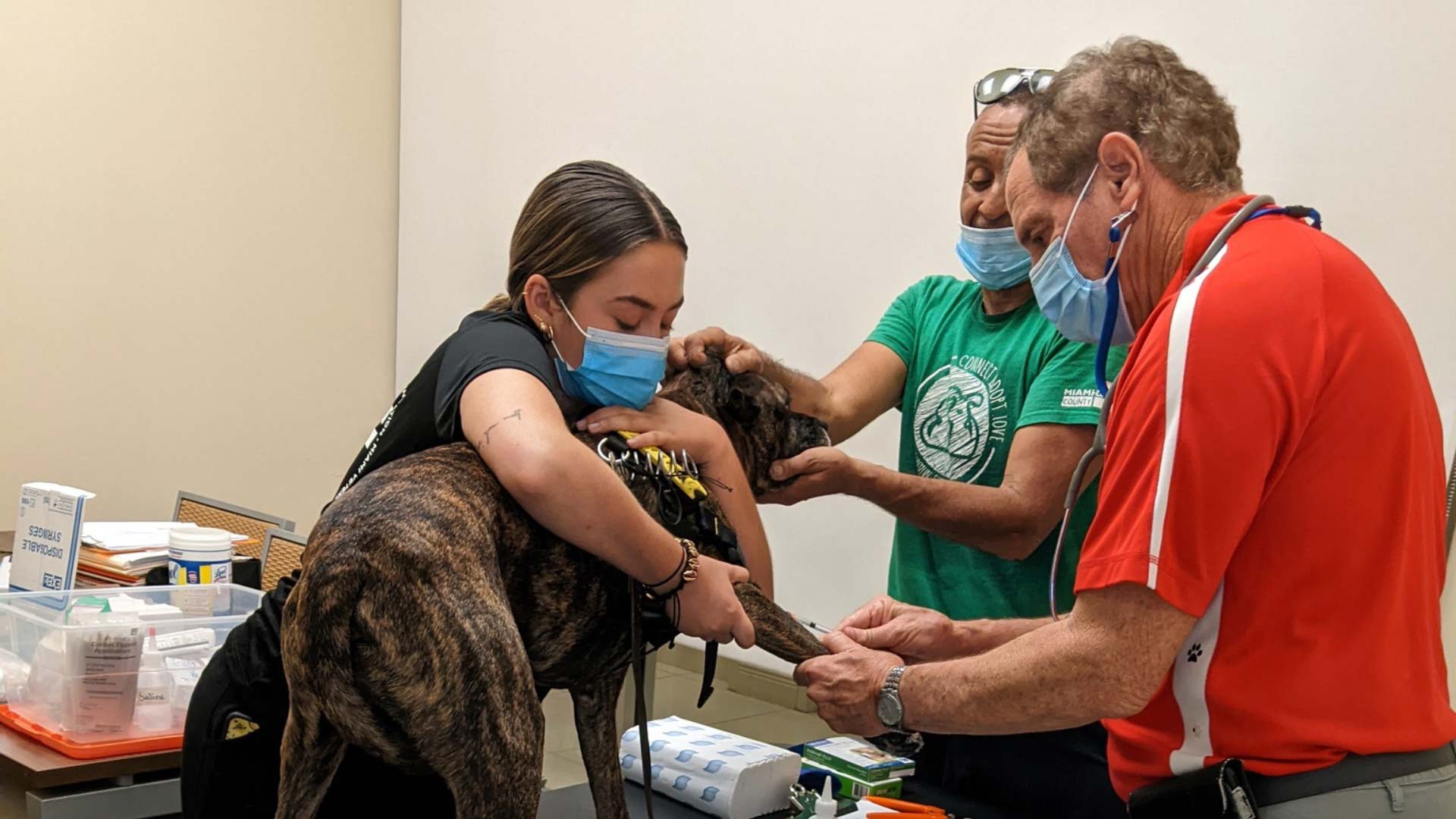 After a long hiatus due to the Covid pandemic, Camillus House's Project Unleashed pet event which was established nearly a decade ago, made a comeback in late June. The event had been on hiatus due to the Covid pandemic.
Throughout the three hours from 9 a.m. to noon, nearby residents brought their pets in for free vaccines and check-ups and to pick up free dry dog and cat food provided by Hill's Science Diet through Veterinary Centers of America (VCA) Charities.
Representatives and veterinarians from Veterinary Centers of America (VCA) and the Miami Veterinary Foundation (MVF) were on hand providing much needed check-ups while the team of volunteers stayed busy checking in pet owners and their pets, guiding them to the check-up area and labeling and distributing pet food.
15 pet owners came by and had their animals examined by a team of veterinarians. Dr. Irving Lerner, who has dedicated his time to the event since its inception, was one of the vets on hand that day. He is passionate about the event's mission to provide free pet services to pet owners in the surrounding neighborhood.
"There is a greater need than ever to provide education, people need to know how to care of their pets, especially the older animals," said Dr. Lerner. "These are good people and they take care of their animals. The Miami Veterinary Foundation and VCA are here to make our community a better place."
Even though the process of a remote clinic can be complex, Dr. Lerner says "we have to provide one for these people who love and care so much for their pets."
Project Unleashed happens on the fourth Sunday, every other month from 9 a.m. to noon, except in December. The free vaccines and check-ups are for the first 20 guests and the free dry pet food is available to all who come by.
By: Josie Gulliksen