The open air second floor at the US Sailing Center in Coconut Grove is where youth gather to set sail out on Biscayne Bay. The enviable view is one that awaits them as they learn to navigate the waters on sailboats.
Once a month, partners Magnus Lijedahl and Susan Eddings of Team Paradise welcome a group of youngsters ages 14 and under and living in transitional housing through Camillus House to set sail out of the Coconut Grove Sailing Club on South Bayshore Drive.
Two years ago we were given the designation by US Sailing as a Siebel Sailing Support Center, a designation that created a pathway for us to meet kids at this level. We're helping them grow a love for the sport of sailing and not be afraid of Biscayne Bay. They're learning to be waterkeepers.
Susan Eddings of Team Paradise
The partnership with Camillus House began in 2020 when Lijedahl was invited by Board Chairman Paul Lowenthal to tour the facility. That first hand experience brought about the idea that Team Paradise would be great for middle-school aged kids living at the transitional housing community Verde Gardens in Homestead.
Transitional living so far south can create complications for the eight kids they can accommodate in their program and Susan and Magnus appreciate all the help the Camillus House team provides in helping get them to the center in Coconut Grove.
"The challenge we have is that these kids are in transition so we may not see them every month. Continuity is always an issue," said Susan, "but Xiomara Suarez-Espinal with Camillus House is instrumental in helping us coordinate those monthly trips to the sailing club."
Although they've got room in the program for eight kids, there are usually four that are always able to make it while the others sporadically show up. In an effort to address this issue they decided to mirror the school year, "so we put out a schedule from September through May and our participants have got the dates early enough so they can plan," said Eddings.
A typical Saturday starts out early with all participants gathered alongside members of the Siebel Sailors Program and volunteers – all of which are certified sailing instructors trained in the Siebel Sailors Program curriculum and rules – Susan keeping track of all arrivals for the day and Magnus, a sailing Olympic champion at front schooling them in all things sailing. He especially stresses his five components for success – Fun, Effort, Respect, Student Voice and Inclusive.
That final component of inclusiveness is how the program operates, bringing together kids from all socioeconomic backgrounds together in one place with one common goal – learning to sail.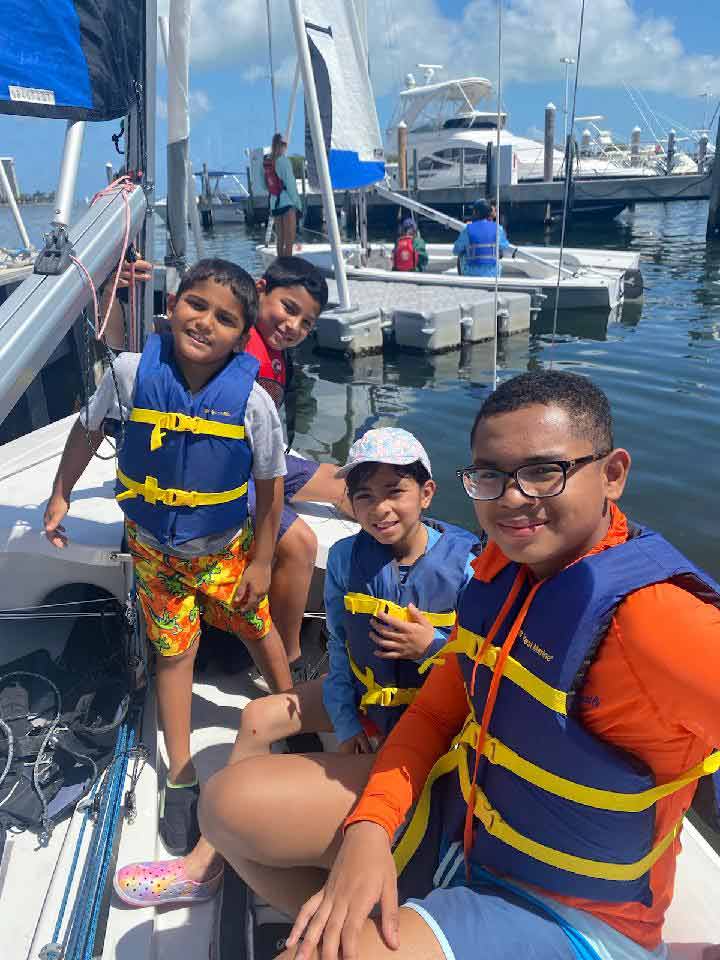 We get these kids from all these different backgrounds and they learn together and they go out together. They learn the parts of the boat, learning how to sail, how to be the ride.
Susan Eddings of Team Paradise
Participant Emmaus who has been in the program two years and is about to age out and Katherine who is 10 years old both of which came to the program through Camillus House, express incredible enthusiasm about the monthly activity.
Emmaus, who will be attending Turner Tech High School in the fall, is in the intermediate phase and will be encouraged to return as a volunteer with the program. And Katherine, whose mom first learned about the program by staff at Verde Gardens loves "that they teach us how to work the sailboats, I was taught how to hike which is fun because you hang off the side of the boat," she said.
And although participants are told what to bring with them, if they don't have the proper equipment Team Paradise will provide it for them at the facility.
What Team Paradise is giving Camillus House affiliated participants as well as disabled veterans for which they also have a program, is a chance to be surrounded by Olympic champions who nurture in them the confidence and training to become sailors.
Sailing away on beautiful Biscayne Bay!
Photo credit: Blair Overman