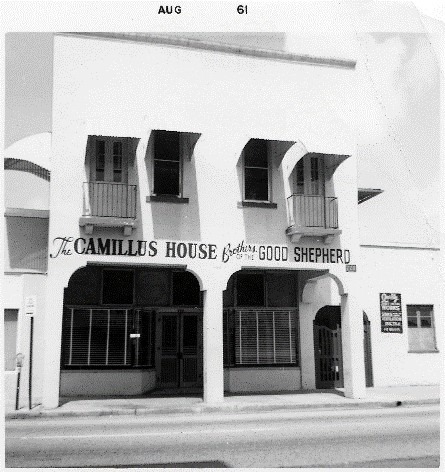 MIAMI, FLA – Today, Camillus House recognizes its 62nd Anniversary of serving homeless persons in Miami-Dade County. In 1960, Brother Mathias Barrett, founder of Camillus House, came to Miami and responded to a need to aid Cuban immigrants arriving in Miami. From this modest beginning, Camillus House was born and over six decades later Camillus has offered hope, healing, community and dignity to the homeless. The voiceless. The abandoned and forgotten. As one of the largest and oldest service providers caring for the homeless in South Florida, Camillus still serves meals to the hungry, now to more than 1,000 per day, while also working to end chronic homelessness in Miami through an array of housing, healing (treatment), essential needs, and homeless prevention programs.
We also celebrate that 2022 marks the 10th year we have been operational at our current location: 1603 NW 7th Avenue, where we've been dubbed as the "crème of the crop" for use of space, design, and functionality of our college campus-like housing and administrative offices. So, especially on this day we are mindful and thankful to every person and organization who had the vision and courage to ultimately help us build a Camillus House that could better and more comprehensively serve our client's needs.
"Years in the making it wouldn't have been possible without the financial backing, supporters, leaders, and dreamers who made it happen. We are humbled to have made a tangible and long-lasting impact in the lives of so many individuals and families", says Hilda Fernandez, CEO of Camillus House.
In all these efforts, large and small, we are guided by the legacy of compassion and hospitality that marked our work from the start. Thanks to a simple act of kindness, Camillus has become a flourishing refuge for our neighbors in need and a sign of hope and goodness for all in our community.
Exciting projects, programs, partnerships, and highlights in recent years – just to name a few:
Growth of Workforce Development and Life Skills Initiative
Establishment of programs to address emerging needs: Project Phoenix, Acquisition of Verde Gardens, Specialized Street Outreach Teams
Receiving the Alvah H. Chapman Jr. Award of Excellence, a first for any homeless service and assistance organization.
About Camillus House
Camillus House has provided humanitarian services to persons who are poor and homeless in Miami-Dade County, Florida since 1960. As a ministry of the Hospitaller Order of St. John of God, Camillus House was originally established to serve Cuban exiles. From its humble beginning as a small soup kitchen, Camillus has grown into a full-service organization offering a comprehensive "system of care" including food, clothing, emergency, transitional and permanent housing, physical and mental health care, and substance abuse treatment. Visit camillus.org